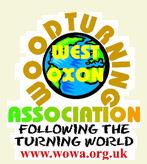 West Oxon Woodturning Association.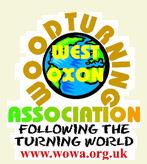 Clicking our logo above from any page
returns you to this home page.
Covid precautions: Please do not attend the meeting if you have tested positive or have any Coronavirus symptoms - including sniffles & colds. For the meeting the chairs will be 1 metre apart. Everyone is encouraged to do a lateral flow test no more than 2 days before the meeting. For more information click here. Home tests are no longer free but can be purchased from your local surgery ( mine has them for £2.50 each).
----oOo----
Glynn has been offered some recently felled Laburnham wood. It is about 10" in diameter.
If you are interested please contact Glynn directly and he will bring it to the next meeting.
----oOo----
*** FOR SALE ***
Please contact Christine Frankum email: cfrankum1@gmx.com
Long hole boring tool - 33" (84cm) £10


----oOo----
Richard Perrin has a couple of slate clockfaces for sale. They are 9" diameter (hands included).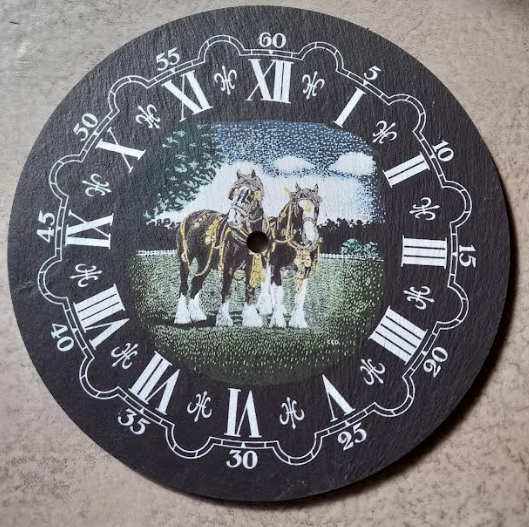 also a kitten design. Contact Richard directly. r.perrin51@btinternet.com
----oOo----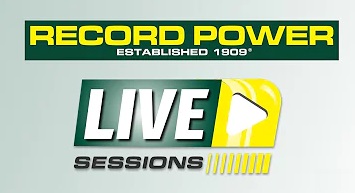 Record Power have some FREE live woodturning sessions on Zoom. Click HERE for dates. New dates appear each month. Turners from all over the world are featured - check them out.
Previous sessions are available on Youtube. Watch them HERE.
----oOo----
John Ellis has 15-20 pieces of dried Yew logs available free of charge. They're 37cm diameter x 43cm high.
He lives in Hilltop Road, Oxford and has easy side gate access. Please contact him to arrange collection - 01865 728603.
----oOo----
To get your demo fix between meetings, Rob has recommended some woodturning Youtube sites for you to check out: Just click on their names...
Ashley Harwood
George Watkins
Glenn Lucas
Glynn Alcock
Kostas Annikas Deftereos
Lyle Jamieson
Martin Saban Smith Woodturning
Martin Woodhead
Mike Waldt
Steve Jones (Woodturner21)
William Hunt
Rick Morris compiles a monthly list to help us find the ones we would like.
See also :-
Alan Stratton
Andy Phillip
Carl Jacobson
Cook Woodworks
David Adamsen
Frank Howarth
Geiser Woodturner
Jim Overton
Matt Jordan
Mike Peace
Nick Zammeti
R Humphrey
Sam Angelo
Squarepeg Tommy
Thomas Anton Geurts
Tim Yoder
Villy Woodturning
Welsh Woodman
Woodturners Journal
Woodworking Shed (John Clothier)
Wood Workshop
Worth The Effort (persevere he knows his stuff)
Yuval Lahav
| | | |
| --- | --- | --- |
| | Have a look at THIS unusual method of creating a bowl without a lathe ! | |
| | | |
| Try your hand at this | Who would have thought that Super Glue and Linseed Oil mix well to give a great finish. | New links on Safety in the Links page |
Welcome to woodturning in the Cotswolds
West Oxon Woodturning Association (WOWA) meet on the first Tuesday of every month at Elderbank Village Hall, Brize Norton, near Witney, Oxfordshire OX18 3PR. (Start 7:30 to about 10:00pm) Map & directions. Non-members are very welcome - £7 visitors fee. First visit is free. Full Membership is £16 per year plus £5 if you attend a meeting. Members and visitors must be over 16. Meetings comprise of demonstrations either by one of our members or by a professional turner. All demonstrations are enhanced by the use of video projection & sound systems which allow everyone to view the intricacies of wood turning. Please come along and enjoy an evening.

Ever wanted to have a go at woodturning but didn't know where to start ?

At WOWA we can show you where to start. From just making shavings to competition winning pieces, we have members of all levels who can help and advise. Some do not have lathes and are just starting out, others have a few years of experience, some are excellent turners.

We all have the enjoyment of sharing our experiences at what we consider to be a very friendly and welcoming club. Your first visit is free.

Your website needs YOU !

Please contribute material to expand the website and make it more interesting.

If you find any interesting links on the internet which other members may also find interesting please send them to peter.bradley200@gmail.com and I'll include them.

Also please tell me about any 'broken' links.

Your website needs YOU !

This webpage was updated on 3 August, 2022