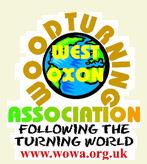 West Oxon Woodturning Association.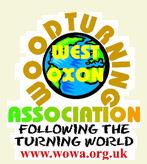 Clicking our logo above from any
page returns you to our home page
NEWS
Please send any news item for inclusion on this page to peter.bradley200@gmail.com
David Roberts (phone 01235 549889) has some woodturning items For Sale:
"I have listed them below, some with indicative pricing (based on talking to his woodturning friends, internet searches, etc.). I can send several photos also so you can get a sense for their condition. If you have any interest in anything, then let's discuss. I'm happy to answer whatever questions you may have."
Used:
£50-100 Nu Tools Wood Lathe (12", 5 speed, model no NWL37, serial no 029 / 04)
£40-50 Burgess BK3 Plus Band Saw
£250-300 Axminster AWVSL Woodturning Lathe (part no 700241, speed 650-3800 rpm, spindle taper "MT, spindle thread 1" x 8tpi RH, centre distance 440 mm/1080 mm extended)
£50-70 Rexon VS4000A fret/scroll saw (120 W, etc.) – includes extension bed
£????? Various chisels, hollowing gouges (bowl/spindle/roughing), surforms, clamps, calipers, and god knows what else!!!!!
Unused:
£60-80 Tormek SG-200 Grindstone
£150-200 Tormek TNT-708 Woodturners Kit
£250-300 Tormek T-3 Water Cooled Sharpening System
£30-50 Tormek RB-180 Rotating Base
£10-20 Tormek MH-380 Cover
---oOo---
Saturday 15th August 2015.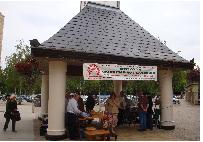 A good deal of interest and purchases from the public this year yielded a very tidy sum for the club coffers.
Lots of interesting questions and numerous contact details given. Several enquirers had lathes left to them which       
were gathering dust in sheds and outbuildings. We expect some extra visitors in the next few months as they seek 
help to re-assemble their lathes and get started.
 
Tuesday 7th July 2015.
	Gary demonstrated several new ideas he'd had since his last visit to us. After a refresher demo 
    for the new members on spindle turning the basic shapes, he moved on to an unusual spinning top 
	device of his own creation (?)