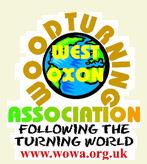 West Oxon Woodturning Association.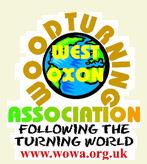 Clicking our logo above from any
page returns you to our home page
NEWS
Please send any news item for inclusion on this page to peter.bradley200@gmail.com
---oOo---
2nd August 2022 Emma Cooke (aka the Tiny Turner) visited us again and made a small bowl from a cube of Padouk.
This was sculpted using a number 3 carving chisel which gave it a hammered metal effect.
Adding two layers of colour and gold trim to the band made this piece stand out.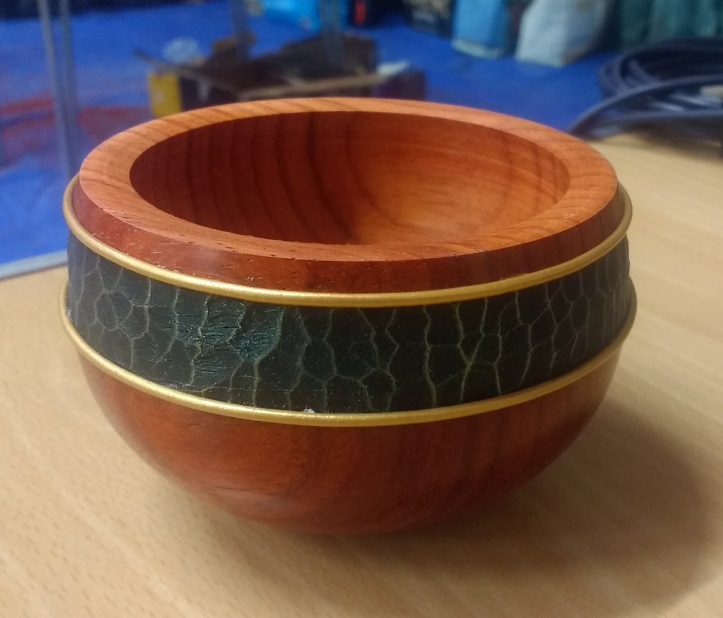 ---oOo---
5th July Les Thorne visited us again and made an ornamental hollow form from a piece of Oak.
He demontrated and explained different methods and tools to hollow efficiently.
Les has an interest in The Woodturning Shop in Hampshire - check it out.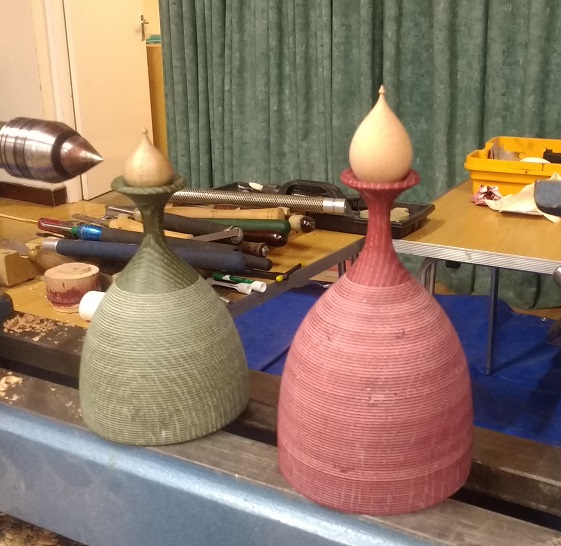 ---oOo---
On 7th June 2022 Paul Hannaby visited us and made a very stylish natural edged goblet from a piece of apple wood.
As an extra embellishment he added a barley spiral to the stem.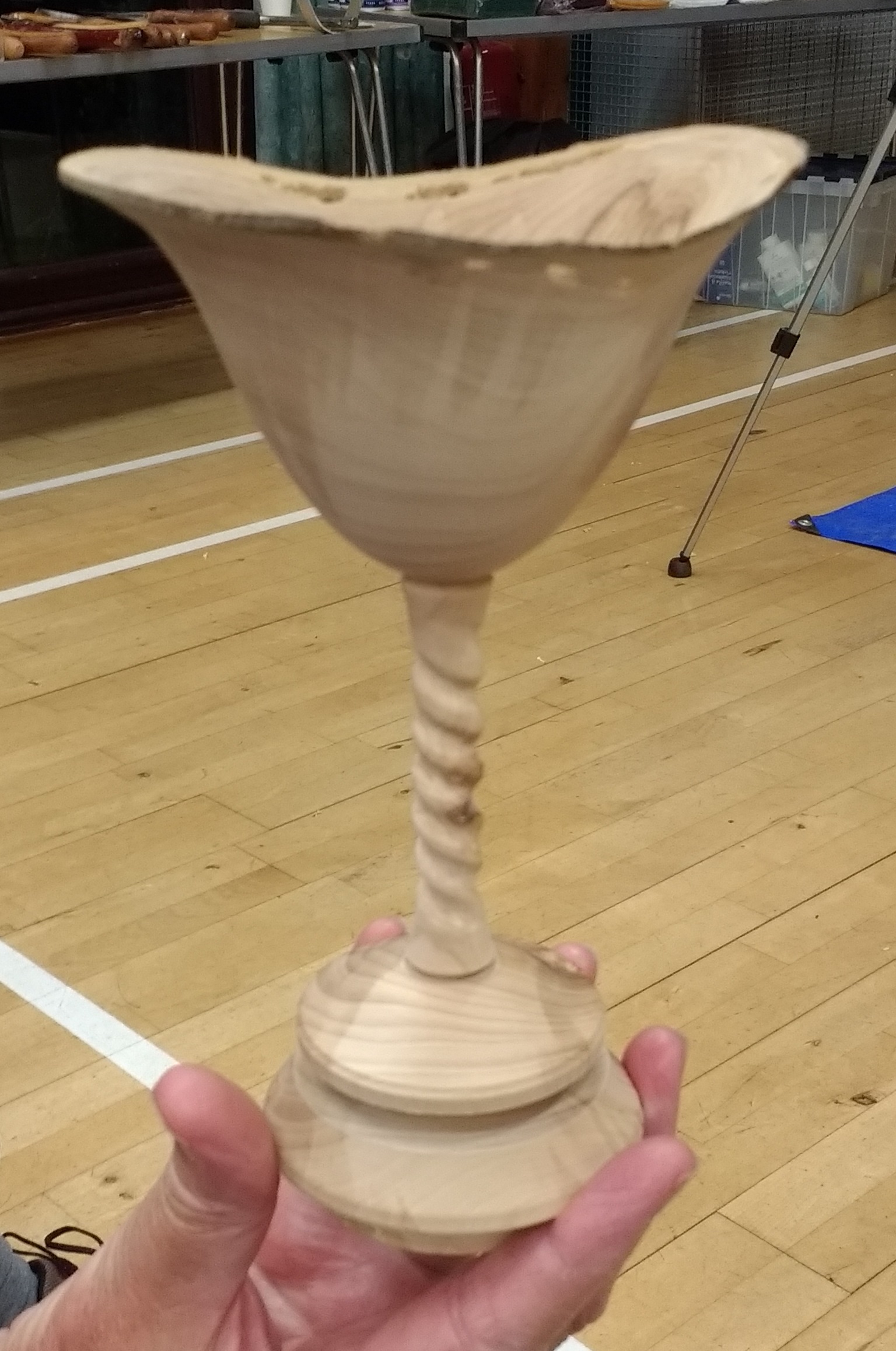 ---oOo---
On 3rd May Chris Parker demonstrated various methods of texturing.
Using different tools including a 'sanding grinder' he made several patterns in Ash & Sycamore bowl forms.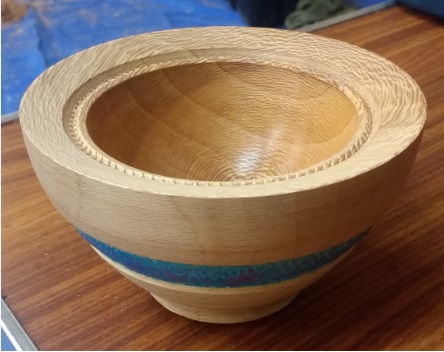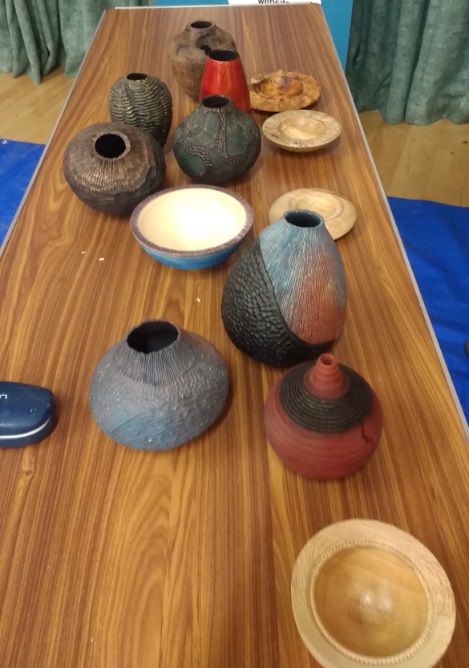 ---oOo---
Christine Frankum has contributed this article "How to make a Longworth chuck" Click the image to view or download it.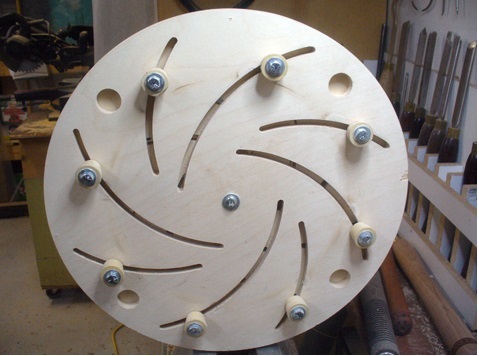 ---oOo---
1st February 2022
Bryan Milham demonstrated spindle turning (his favourite) and made an end grain 'barrel tobacco tin' with raised bands.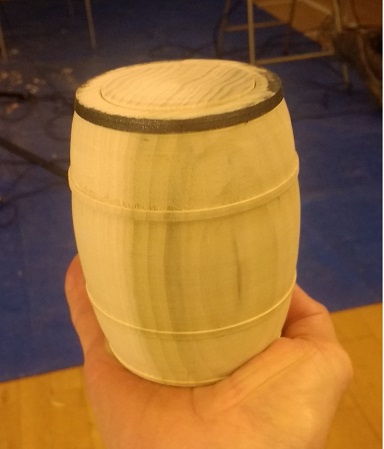 After the teabreak he made a 'Ginger jar' which he painted with strange coloured stripes and an iridescent blue lid.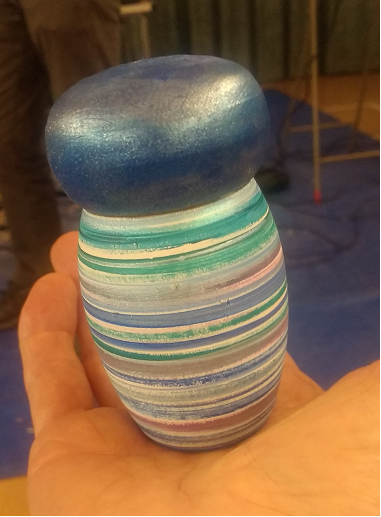 During his demonstraion Bryan recommended various useful tools which he uses regularly.
Here are the links to them:
https://www.axminstertools.com/health-safety-workwear-ppe/eye-protection-visual-aids/safety-glasses
https://www.rdgtools.co.uk/acatalog/LATHE_CHUCKS_BACKPLATES_SOFT_JAWS.html
https://www.padovac.co.uk/product-category/backing-pads/
---oOo---
4th January 2022
Pete Moncrieff-Jury visited us and almost made a large goblet using three different pieces of wood (albeit from the same tree). He also made an off centre scarf ring securing it to the chuck with hot glue. Things weren't going right for him on the night and the audience was dodging flying bits of wood several times during his demonstration!
---oOo---
November 2nd 2021
On what 'turned out' to be his 18th visit to the club Gary Rance made an unusual bell shaped salt shaker.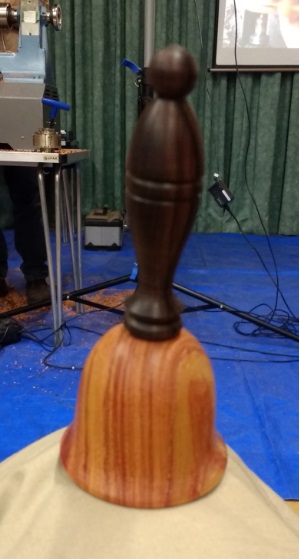 After the tea break he went on to produce a delicate finial style bauble out of lemonwood.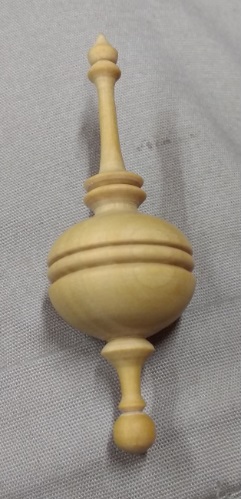 Finally, he showed some basic turning techniques for the benefit of new members (and a reminder for the rest of us).
---oOo---
October 5th 2021
John Aitkin (minus his bowler hat) demonstrated a Yew hollow form with an African Rosewood threaded lid complete with delicate finial and gilt texture.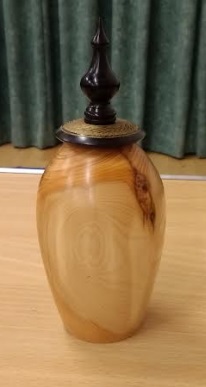 ---oOo---
March 6th 2018
Tony Cliffe came to our meeting and demonstrated the delicate art of Ornamental Turning. His demo was preceded by a powerpoint presentation to explain the theory and history of Ornamental Turning. He had a complicated setup of a (stationary) lathe which he indexed to enable a complex pattern of cuts to be made using a separate cutting machine. The whole process was very time consuming but yielded an interesting design on the work. Link to the Society of Ornamental Turners bulletin 136.
15th August 2015.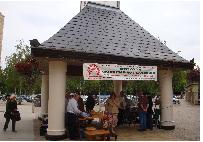 A good deal of interest and purchases from the public this year yielded a very tidy sum for the club coffers.
Lots of interesting questions and numerous contact details given. Several enquirers had lathes left to them which
were gathering dust in sheds and outbuildings. We expect some extra visitors in the next few months as they seek
help to re-assemble their lathes and get started.

Tuesday 7th July 2015.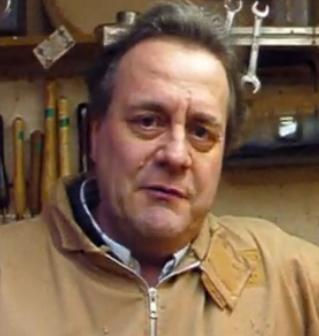 Gary demonstrated several new ideas he'd had since his last visit to us. After a refresher demo
for the new members on spindle turning the basic shapes, he moved on to an unusual spinning top
device of his own creation (?)